Yesterday Air New Zealand suddenly changed their credit card loyalty program, switching from BNZ to Westpac. There are, apparently, "probably over 100,000" customers affected. And I'm one of them.
It's a privilege
It's a privilege to have Air New Zealand as our national carrier. For a number of years now they have been at the forefront of the global airline industry, bringing in a series of customer-focused innovations. Above all the front line staff are consistently friendly, sincere and have a can-do attitude.
It's a privilege to be able to fly at all really. It's fanciful even that we can choose to commute through the air to and from another city in a day, and Air New Zealand makes that sort of commuting easy. It's a privilege to live in a society where so many can afford to do so, with Air New Zealand carrying over 1 million passenger journeys in January 2015 alone.
It was inspiring to bear witness to the Air New Zealand turnaround. Back in the early 2000s Air New Zealand was atrocious, but under the leadership of first Ralph Norris then Rob Fyfe it gradually improved. Those leaders put the customer experience at the centre of everything, and as the changes appeared, the staff were increasingly happier and therefore we customers enjoyed the experience even more.
In 2010 I summed it up – Air New Zealand is the best – here are some reasons, finishing "well done Air New Zealand – you have made us proud."
We care
Complaining about airlines is perennial fun it seems, as most airline travel seems contrived to increase stress levels of everyone in the airport and on the plane. So it does seem a little petty to hold Air New Zealand to account when they still easily exceed the experience on offshore equivalents.
But hold them to account we shall. For it's not about our own experiences, but about the country, as a great national carrier brings strong economic benefit to us all. Tourists are far more likely to come here, we are more likely to fly to see each other internally and  we are all more likely to travel domestically and offshore for business. The more we fly, the better the wheels of commerce turn, the better the economy does and the more tax we pay. The primary shareholder of Air New Zealand is the NZ government, and they should be contemplating the value of the airline in this way.
Enter the rot. 
For me it was the strawberry jam, when, back in 2011, then new CEO Christopher Luxon talked about switching out the decent strawberry jam for a cheaper alternative, bragging that the new jam was "good enough." It wasn't.
But it's also the insistence on retaining the opt-out $10 insurance per flight, something which the Commerce Commission is finally taking action on. It's the removal of drinkable coffee, the desperately unhealthy snacks and regional fares that are not fair and the increasingly cramped flights to Australia.
And of course Air New Zealand are still partnered with the execrable United, the only airline in world to consistently misplace my bags and the source of much customer hate.
"We're making changes to our Airpoints earning credit cards"
Yesterday we learned that the BNZ Air NZ cards are being swapped out for Westpac cards. Apparently "you'll need to consider a different credit card."

This is a big change and there is a lot at stake here – Westpac CE David McLean is quoted by NZ Herald saying:
"There's [sic] a lot of customers who from the first of April won't be able to earn airpoints on their BNZ credit cards, probably over 100,000.
and
"We know from our research into this type of customer base, that these are people to whom earning airpoints is really, really important.
"They love travel and they want to keep earning it on their spend so they're going to need to be looking around for a credit card that does help them earn airpoints"
"It's a really compelling offer and we're going to compete very, very vigorously," McLean said.
"We're very confident we'll win a large proportion of these customers, but we're not putting a target on it."
Air New Zealand's GM of Loyalty is Hamish Rumbled, and he said "More than 20 per cent of all credit card spend in New Zealand is on Airpoints earning credit cards."
So 100,o00 people are affected, they are all fans of BNZ (they have the card) and of Air New Zealand, and now Air New Zealand and Westpac are asking them to change loyalty.
How much are these 100,000 customers worth? 
It depends whether they are transactors or revolvers.
Transactors pay their bill each month, and so the bank nets 0.5-1% (I really don't know) from the merchant fees, along with the annual fee. With these assumptions if you spend $2,000 a month then the bank might net $100-250 per year. But these loyalty cardholders would arguably spend a lot more than the average cardholder, as they have to buy a critical mass of airline tickets for the program to be worth it, so I am going to estimate (or guess)  that the average transactor is worth $500 per year.
Revolvers are much more valuable though, as they hold their credit card debt over each month, and at 19% or so that's an expensive thing to do. So a revolver holding a $10,000 average balance pays about $1900 a year. I don't know what the average balance would be, so let's choose an equally arbitrary $1500 per year average for loyalty card revolvers.
What's the split between the two? Again I have no idea, so let's choose to go with $800 per customer, which implies something in the order of $80 million of net return is at stake. Overall I'd be surprised if the potential net value for these cardholder wasn't in the range of $50-300 million per year.
This excludes the bigger prize of acquiring customers who bring their mortgage (especially) and other business across, worth more thousands per customer per year.
I have no idea how the deal between Westpac and Air New Zealand works, but when we see this much value at stake we can easily argue that Air New Zealand seems to have  chosen the prospect of more money now over customer happiness and loyalty.
Challenging our loyalty
In New Zealand we are lucky to have some very fine banks, standing almost alone in the world in weathering the economic storms of the global financial crisis. I like BNZ, my bank, and have a lot of business with them. I tried and failed with Kiwibank a few years ago, have an account with ASB and have no affinity with the undoubtedly fine folks at Westpac of ANZ.
I want to stay with BNZ. They happen to be in a good customer-centric place right now. So why should I reward them by leaving?
This is a deliberate attempt by Westpac and Air New Zealand to challenge the loyalty of 100,000 valuable Air New Zealand and BNZ customers. Some will move – perhaps to Westpac, or maybe to Kiwibank, ANZ or American Express, who also have Air New Zealand loyalty cards (for now). Others, probably most, will not move and so their Air New Zealand experience will move down a notch, yet again.
So these customers will be challenging their assumptions about their airline loyalty. It's not that painful to switch airlines for international travel, not nearly as as painful as switching banks.
Not a nice way to do business
The way this news was released was poor. It appeared on the Air New Zealand website and stormed through media well before customers were told. The Twitter exchange below is insightful (start from the bottom):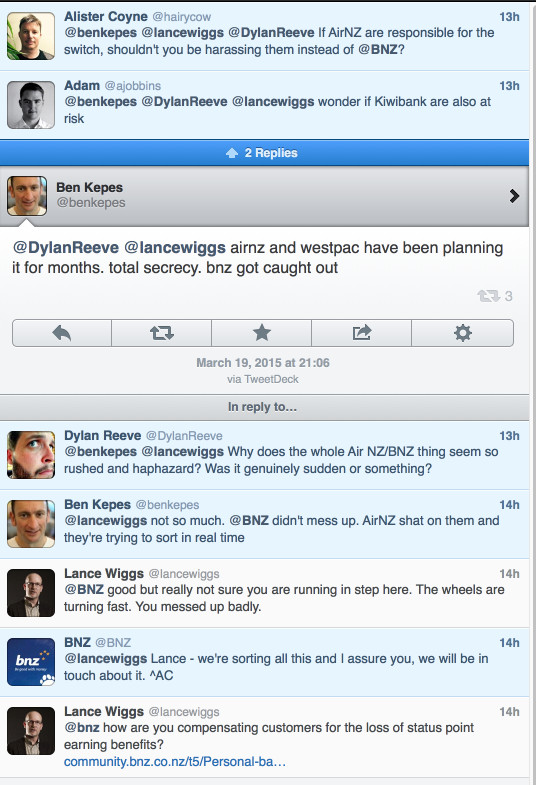 The allegations are that Air New Zealand was working with Westpac for some time on the deal, and that BNZ was only informed at the last minute. That's certainly true for at least some customer facing people working at BNZ, who should have known earlier.
If true this is not the nice way to do business, especially for a NZ icon like Air New Zealand, who should be a guardian of our defining kiwi value of fairness.
I threw rocks at BNZ on Twitter, unjustifiably it seems. They say they are responding to this change by moving from regarding with AirNZ Airpoints Dollars to rewarding with New Zealand Dollars (a far more negotiable currency). We have yet to see what else they can conjure up to retain customers. I hope they do it well.
New Zealand is a small place, and we have each one set of ethics. My set makes me react fast to unfairness, and to aggressively fight to help great companies that place customers first continue to do so. That meant a long series of tweets last night about this issue, and this article.
I feel that Air New Zealand board and executive team need to examine the way this played out versus Air New Zealand's values. Was this fair? Can this be fixed? What's the next erosion of customer experience?
Times change. Like many I used to choose Qantas over Air New Zealand, and it appears that Qantas is on the rise again, even making an offer, now closed, to Air New Zealand Gold status holders to get the Qantas equivalent for free.
In summary
I'd rather not have to write such tirades.
I'd rather the businesses I choose keep understanding that long term customer centricity has far more value via than short term profit taking.
But Air New Zealand seems to keep falling for these short term profit-centric answers, and this is at the expense of not just long term value for shareholders, but also for the entire New Zealand economy.
Enough.